Notre option " Taghazout Surf Lessons " est destinée aux personnes qui n'ont besoin que de cours de surf pour quelques jours ou plus, sans hébergement ni autres extras.
Il est parfait pour les voyageurs passant par Taghazout ou Agadir, ainsi que les touristes locaux venant profiter des vagues le temps d'un week-end.
Nos coachs de surf sont spécialisés dans l'enseignementnovicescomment s'y retrouver et emmener ceux qui veulent s'y mettre un peu plus haut dans la multitude de vagues de classe mondiale disséminées dans la baie de Taghazout.

Viensn'importe quel jour tu veuxet réservez 2 jours ou autant que vous le souhaitez !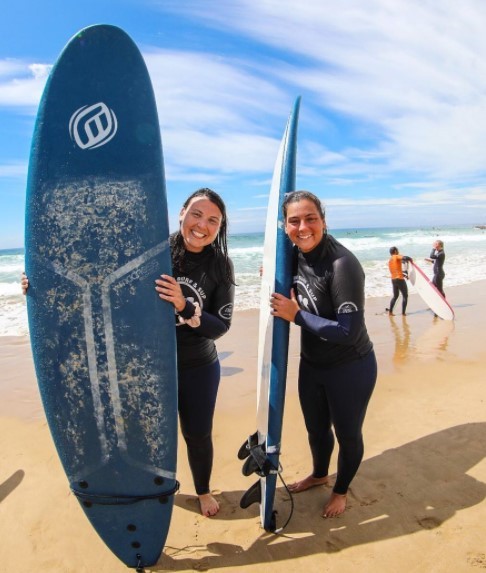 "
First green waves!!! 🏄‍♀️
My group was delighted with our stay. We were impressed by the location of the house and the friendly service. The rooms we stayed in were just clean and above our expectations. The view from the rooftop terrace was amazing. Surfing lessons were great. We felt very well in the company of our funny instructors. Some of us caught our first green waves!!! All meals were delicious and always served with a smile. We all absolutely recommend this spot!!! ❤️❤️❤️
Le Surf
This package will give you daily surf lessons of 2 hours each and supervised afternoon surf session (free surf) with guidance from friendly and qualified surf instructors

What's included:
Wetsuit and surf board hire
2 hours surf lesson/day + 4 hours free surf
Transportation to the surf spot and back
Packed lunch (Salad or Sandwich)
Meeting point: Surf Camp Taghazout
Not-included:
Payment Policy
This is how it works:
Choose your package or offer, your dates and book for 20% deposit fee per booking, fully refundable*.
On arrival at our location, your balance (what's left to pay) will be requested and can be paid cash (USD, EUR or MAD) or card.
* The advance deposit is fully refundable up to 7 days before check-in date, after that it is possible to cancel and get a voucher for what you paid, valid for one year. No refund or voucher for No-shows.

What previous guests said about us