The "Surf & Yoga Package" is for people from all ages, from the complete beginner who never surfed or practiced yoga, to those who already did and want to make it to the intermediate level.
Our surf coaches specialize in teaching absolute beginners how to find their feet, and in taking those who want to step it up a bit to the multitude of world class waves dotted around the Taghazout bay area (you can see four of them from our rooftop terrace!).

Come any day you want and stay for 3 days or as many as you want! Most guests stay for at least a week, chasing waves and soaking up the culture.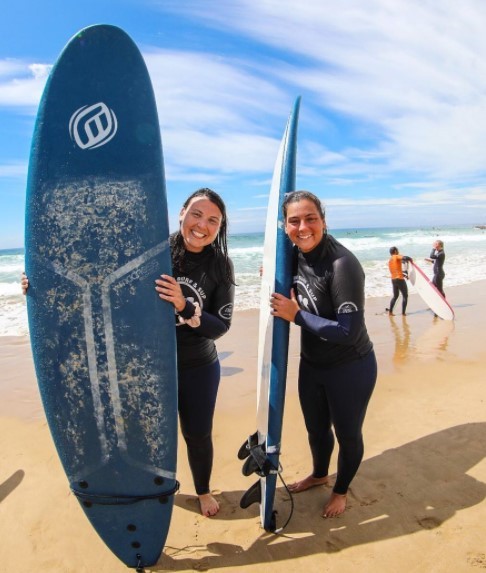 "
First green waves!!! 🏄‍♀️
My group was delighted with our stay. We were impressed by the location of the house and the friendly service. The rooms we stayed in were just clean and above our expectations. The view from the rooftop terrace was amazing. Surfing lessons were great. We felt very well in the company of our funny instructors. Some of us caught our first green waves!!! All meals were delicious and always served with a smile. We all absolutely recommend this spot!!! ❤️❤️❤️
The Surf
This package will give you daily surf lessons of 2 hours each (theory + practice) + up to 4 hours of supervised afternoon surf with guidance from friendly and qualified surf instructors. It's a full day trip starting at around 10am and ending between 4 and 5pm.
To view our daily schedule, please click here

Surf lessons are not included on check-in and check-out days.
Also included:
Wetsuit and surf board hire
Transportation to the surf spot
The Yoga
Yoga is for everyone, you don't need to have any prior experience.
We provide early morning or late afternoon Yoga sessions* Morning: Vinyasa. Late afternoon: Restorative or Post-Surf Stretching.

A good pre-surf yoga routine will help prepare you and make sure you get the most out of your session, late afternoon session will help you restore your muscles and body.
* Every day except on check-in and check-out days if you book a package.