The "Experienced Surfer Package" is for surfers with a lot of experience, who don't necessarily need surf coaching.
Our location, right next to two excellent surf spots (Hash point & Panorama Point), will give you quick and easy access to the waves.
You can also check the other spots such as the world famous "Anchor Point" right from our rooftop terrace.
This package includes: accommodation, all meals, surf equipment (including high performance epoxy surfboard) + other extras (click for more details)
Not included: Surf guiding, but it can be added to your booking here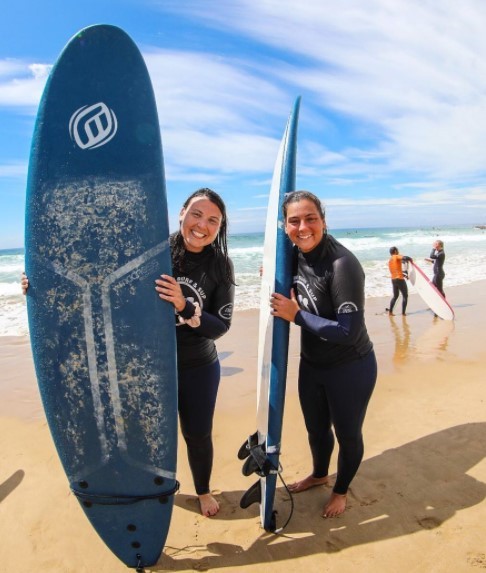 "
First green waves!!! 🏄‍♀️
My group was delighted with our stay. We were impressed by the location of the house and the friendly service. The rooms we stayed in were just clean and above our expectations. The view from the rooftop terrace was amazing. Surfing lessons were great. We felt very well in the company of our funny instructors. Some of us caught our first green waves!!! All meals were delicious and always served with a smile. We all absolutely recommend this spot!!! ❤️❤️❤️
TAGHAZOUT SURF HOTEL
Located in the heart of Taghazout, 1 min walk (30 meters) to the beach and with a breathtaking view of the Atlantic Ocean from the rooftop terrace lounge. This newly renovated house has 10 rooms and was designed with Berber tradition in mind, the decoration is inspired from traditional moroccan architecture. It also has a rooftop restaurant.
The Rooms
(Main Building)
We have 9 rooms in total in the main building. These rooms are located on the first and second floors, some of them have private bathrooms. The rest have access to clean shared bathrooms (3 in total) + 2 restrooms (WC).

The rooms have been designed to provide comfort to guests. Rooms are well ventilated and naturally freshen. Rooms do not have TVs for a special reason, we want our guests to disconnect from daily routine, get outdoors and enjoy the surf and the culture.

The double rooms have queen size beds (140x190cm), it's not possible to split them into two single beds and not possible to put an extra single bed in the room. Bath towels, blankets and bed linen are included.

3x Double Room: Ensuite bathrooms
4x Double Room: Shared bathrooms
1x Twin Room: Shared bathroom
1x Single Room (No window): Shared bathroom
Room check-in starts at 14:00 and checkout before 11:00, if your departure time is later than 11am, you can leave your luggage at the reception and pick them up before you leave to the airport...