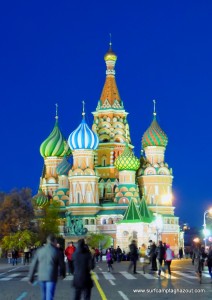 October has been a busy travel month for me. My summer job ended at the beginning of the month, and my travels started just 2 days after my last day of work. Fortunately being someone who is blessed with seasonal employment, my travels will continue on until my next job starts in December.
For this break in between employment, I decided to pack in as many places as I could. Starting with a lovely trip to Alaska to visit my family before heading back down to my home in Lake Tahoe California, where I would start the international part of my 2 ½ month vacation.
Moscow, Russia!
For this trip, I had found a ticket that was pretty cheap – $660 return, Los Angeles to Barcelona. The catch for such an amazing deal, a 12-14 hour layover in Moscow for both legs of the trip. This could have proven to be a problem for most, but I of course thought of it as an opportunity, and proceeded to get a transit visa for Russia, so I could visit some of the infamous sights and figure out which Russian vodka tasted the best. Which if anyone is given the opportunity to visit, I highly recommend doing so. I departed LA on the afternoon of the 18th, and arrived in Moscow on the afternoon of the 19th. Unfortunately in my crossing over of the International Date Line during my 11 hour flight, I did lose a day, probably another reason for the cheap fare. But at least I would gain that day back on the way home. Once I got out of the airport and into Moscow, it was somewhat surreal. Navigating the city very strange as most people I tried to ask for help did not speak any other language except their native tongue.  However, once I did get it figured out, I really appreciated how grand the city is.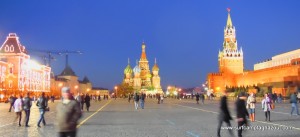 The Kremlin is colorful and dream like, and Red Square is way bigger than I imagined. Everyone is very kind, tons of historical buildings and theaters, and its a very clean city. I cannot wait for my next layover in December so I can discover a bit more.
On the morning of the 20th after my afternoon and night in Moscow I was off to a part of the world that is way more familiar to me; Spain. Once I arrived in Barcelona, I sadly did not get past the airport, as I was immediately running to catch the next bus to Girona, which is where I would be flying in and out of for the next few legs of my trip.
 Girona, Catalunya, Spain
Girona is a beautiful small Spanish city, with a river running through the main historic downtown area. It is very walkable and has many cute shops and cafes. There is also a castle, and many trails around the city that offer amazing views of the center and beyond. My stop in Girona was only for a night, but having the chance to discover a little of what the city had to offer was a nice experience.
Dublin, Ireland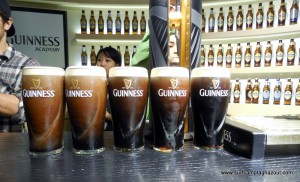 Next on the itinerary was Dublin, Ireland. This week long stay was to see my friend, who also happened to get married the day I arrived. If anyone has ever been to an Irish wedding, this is not your normal one day affair. This wedding included a party that kept most of us attendees up till the wee hours, and set the tone for the rest of my week there. Because hey, one day of celebrating is never enough, you must celebrate for at least a week, it is a wedding after all. A trip to the Guinness factory was a necessary evil at that point, as well as the standard hop on hop off city tour.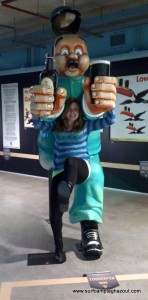 I was blessed with not too much rain and cold, but experienced enough that I was happy to leave for a warmer climate and a much slower pace. On the 28th of October after the whirlwind of airports, hostels, and friends/families couches, I was finally headed to my main destination Taghazout, Morocco.
Marrakech, Morocco
My journey to the small town of Taghazout began in Marrakech. It was very hot when I got off the plane. The sense of how different this place actually is hit me just as fast as the heat when I began walking off the plane. Seeing signs in Arabic and French made me wish I had spent a little more time studying and practicing French before arriving. Once through immigration, I immediately went on the search of a taxi to catch a bus to Agadir. Getting a taxi seemed a different kind of feat. You know how people who have been to Morocco as well as  guidebooks tell you to barter a bit in order to get the fair price for things? Be prepared to do that the minute you step out the front door of the airport and want to get a ride out of there.
I must admit I was nervous when I first got here, and felt very out of place the second I stepped out the front door of the airport. Its just that this is such an unknown environment for me. Even just at the airport there are police on guard everywhere, lots of people to navigate around, and taxi men who are trying to take your bag before you even agree to accept a ride from them! I am absolutely certain I looked overwhelmed. Not to mention, it is very apparent I am not from here, having red hair and fair skin. As I am walking through the mess of people, I pick my taxi man who, by the way, has seriously the most steezy aviator sunnies I have seen in a long time. His old man swag was AMAZING, so he of course had to be my driver. I walk towards him, and before I could even tell him where I was going, he takes my bag. I of course have no choice but to follow,  repeatedly asking "How much to go to the CTM Bus Station?" His response over and over was "How much do you want to pay?" When I finally got a response that included a price, his offering price of 200 Dhm was to high.  I offered lower, he of course went higher, and we eventually settled on 100 dhm. Feeling a little more confidant, we set off. Driving around Marrakech seemed like a whirlwind. It was sunset, and the call for prayer was being blasted throughout the city. There were people on old school mopeds zipping around everywhere, cops on every corner,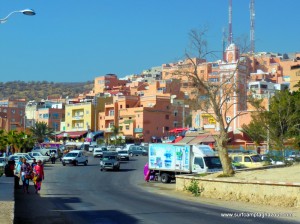 I even saw families getting camel rides for their children! Once we got to the station, it was time to book the bus to Agadir. This turned out to be a very simple process actually as there was no bartering necessary! Well I am assuming it was not anyways, being a place that prints a ticket with the price on it. Plus coming out to a pretty inexpensive 120 Dhm for the ride, and 5 Dhm more to check my bag into the lower compartment, I was certainly ready to kick back and relax for my 3 hour ride to Agadir. I did however have a little bit of lag time at the station, which I used to go across the street to the mini market and buy a Maroc Telecom SIM Card. This is pretty handy spot to get that taken care of if you have a mobile that you would like to be able to use while you are here. I paid 50 Dhm for the SIM which includes some startup minutes etc. There are also some small snack stands over there as well if food should be necessary to satisfy any hunger you maybe feeling in the next 3 hours, before being confined on the bus for the 3 hours. Did I mention that it was 3 hours… ughh
Taghazout, Agadir, Morocco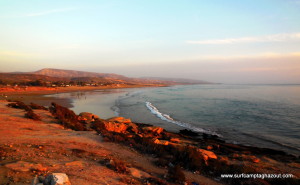 Actually the bus ride was quite painless, and surprisingly comfortable. I slept for most of the ride which was nice after traveling in airports for most of the day. Once I arrived in Agadir, it pretty obvious, as it was the most buildings and lights I had seen for hours. The bus station is also way bigger than the one in Marrakech. They unloaded us on the backside of the building, and all of the taxis, should you need one, are on the front side. I was fortunate enough from this point to be blessed with a ride from a very nice Moroccan friend all the way to Taghazout. Should you not be so fortunate and are in need of transport to town, you will once again have to barter with some taxi men. Should this be necessary I was informed that a taxi to this little surfing mecca should cost no more than 125-150 Dhm, and the drive is about 30-35 minutes.
Arriving in Taghazout, was interesting. We were driving along, it was very dark, no streets lights in these parts. Then all of a sudden it was like a burst of light. Don't get too excited though, its a small concentrated burst of light. It is a small town, but there is definitely a lively energy about it. There are people out and about on the streets, and in the cafes. Finding the location of the surf hostel is decently easy as well, but mind you I was guided to its location so my thoughts on this could be a bit skewed. However, if you are not as fortunate to have someone taking you straight to its doorstep, I was told that there are many kind people who would be happy to show you the way. Particularly the employees and possibly the patrons at the restaurant LA PAIX, which is right down the way from the hostel.
Once I got into the hostel I was very happy. Its very clean and lots of people around to talk to and ask questions.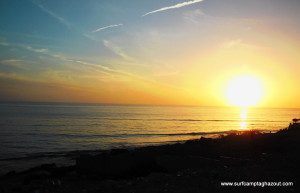 Reception is on the 3rd floor, and the hostel manager Hamid is very nice and will get you checked into your room and show you around etc. There are surf lessons daily, so if you would like to partake in one the next day, this is a great time to let him know as it helps with the planning in the morning.
After I checked in, I was left to do what I like, and at that hour after traveling all day, I chose bed. Breakfast was at 8am and I was thinking of giving surfing a go as well.
The next day I did manage to make an attempt at surfing, but that pathetic first attempt story is for another blog entry. I will tell you however that the next day was beautiful and very warm. I will also tell you that if you have any questions about getting yourself to the Surf Camp Taghazout, you should email us here and you will get the answer to your question.
Cheers Cheers!

Amber Metzger, Surf Camp Taghazout's new Gossip girl/Reporter!