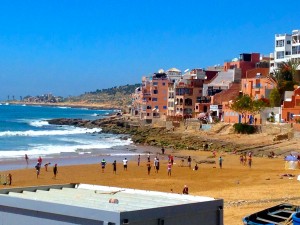 "Hey you want to come to Morocco and teach yoga?" Pops ups on my Facebook message screen from my good friend I met on my travels to Spain one day. I had just moved to LA a few months ago and was looking for a yoga teaching opportunity. I did not think she was serious, nor was I so sure about uprooting my life to Morocco for a couple of months, but after a week or so of the thought of Morocco dancing around in my head I knew what my decision was. I said "screw it, I'm going to Morocco".
Of course there was the standard "Are you crazy? You're going to Africa?" and "you know you won't be able to even walk the street without a man" etc. Yet, for the most part my friends and family were extremely supportive. They knew my heart was always on the move and that teaching yoga while traveling was a dream of mine. Within the month before I left, I made the strangest encounters with a handful of random people who were from Morocco or had traveled there themselves. They only had encouraging and beautiful things to say about Morocco, which boosted my confidence and excitement.
Traveling from Los Angeles, California to Taghazout, Morocco was over fifteen hours of travel. I however, was awake for about forty-eight hours on planes and in airports. When the plane touched down in Casablanca I did not even know we landed. I thought we hit turbulence in the clouds because I looked out the window and all I could see was thick gray fog. Then the plane stopped. No, we had definitely landed. No mountain, no hills, no flat desert as far as the eye could see, I think I saw one small dry plant standing alone in the fog.
Still one more flight to go. By the time I landed in Agadir I could barely stand straight I was so tired. Luckily the sun was shining bright in the south of Morocco, but I barely even remember the taxi drive to Taghazout. I instantly fell asleep and missed most all the gorgeous ocean side scenery to the hostel. When I finally arrived at the hostel I was a zombie.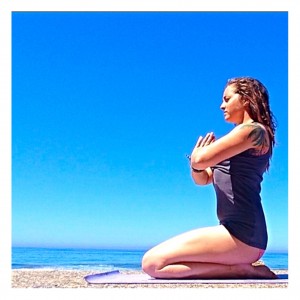 I must have slept for twenty hours and when I woke up, Morocco, hate to say it but you did not give the greatest first impression. My entire first week Taghazout was tucked in tight by a thick blanket of grey fog. The sun could not even poke its nose through the tightly woven clouds. From the day I arrived, even before I got off the plane there was a thick stone cloud covering Morocco.
All I could think was that I had made a horrible decision to completely revert my life and move to bloody Africa. I mean I left warm sunny California for this? I thought I was coming to a flaming dessert not icy Antarctica.
However, you always gotta give a second chance.
A little less than a week after I arrived it was a new Morocco and all was good in the world again. The sun showed it radiant face beaming heat on all and I was soaking in the sun on the rooftop of the terrace with great new friends. I did a beautiful awakening and gratifying yoga session on the beach in morning while the local children and dogs ran and played in the sand.
All the Moroccan kids, or at least the ones I noticed noticing me, had the funniest "what the hell is that girl doing" look on their faces. I am sure many never seen someone do yoga or meditate in their playground before. I just giggled to myself and went about my asanas. Maybe I'll intrigue them enough that some will come join me.
Though it is the end of the surf season here in Taghazout the waves are a perfect for a no-where-near-pro surfer such as myself. They are great for everyone from beginners to intermediate to well experienced to have some fun hanging 10. I get up and I ride that wave, and then I fall, but who cares I'm in Morocco doing what I love.