Travelling by Airplane
From Anywhere in the World
Ryanair offers cheap flights to Agadir, Marrakech and other Moroccan cities, from many cities in Europe.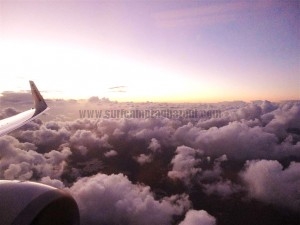 From the U.S. and Canada
You can find some cheap flights from New York, Montreal, DC and Boston to Casablanca on skyscanner.net  From there you can catch a train to Marrakech. The train station is located in Casablanca airport, just follow the signs and you'll find it. Another option is to take a CTM bus to Agadir. Check ONCF for train and ctm.ma for bus tickets & timetables.
From the UK and Ireland
From The Netherlands (Holland) and Belgium
transavia.com flies directly to Agadir from Amsterdam, and Easyjet occasionally as well.
From Spain
Airport Pick-ups
If you're not staying with us, you can book your airport pick-up in advance on our dedicated website for airport transfers in Morocco. The price of an airport pick-up is the same price as what taxis charge local Moroccans, the difference is that our drivers are professional, always on time, they drive non-stop (some taxis stop to pick up and drop off along the way) and you don't have to pay them cash, payment is always done online in advance. The driver will be waiting at the arrival hall, holding a board/paper with your name on it. For a drop-off you can also book it on transfersmorocco.com. The rates are the same as for pick-ups.
From Marrakech Airport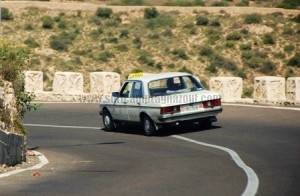 We provide airport pick-ups from Marrakech at all hours of day and night. It is about 3 hours to Taghazout. We use reliable private taxi-service for this. You can find the prices here.
From Agadir Airport
The ride takes about 40 minutes to an hour, click here for prices.
From Agadir City
By Taxi: a Grand Taxi will cost around 150 dirhams during the day and 200 dirhams at night.
Traveling by Bus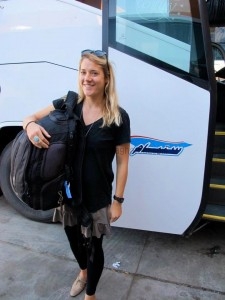 From Europe
One option is the bus www.eurolines.com, with connections from any city in Europe to Agadir.
In Morocco
There are two reliable bus companies which operate between all major cities in Morocco. One is CTM and the other one is Supratours. These companies have modern, safe buses equipped with air-conditioning, making the bus-ride very comfortable.
From Tangier
If  you already are in the South of Spain, the cheapest option is to take a ferry from Tarifa to Tangier ( about 25 Euro), and once there to catch the CTM bus to Agadir (30 Euro). Buses from Tanger to Agadir leave around noon. When you come off the ferry, the CTM bus company has their office on the right hand side just after you pass customs. Check out http://www.ctm.ma/ for timetables.
From Marrakech
Once you have arrived by plane in Marrakech you can take a taxi to the CTM or Supratours bus station to get on a bus to Agadir. A taxi costs about 70 Dirhams (about 7 Euro), there is a price table in front of the Airport arrival hall, check it out first so you don't get ripped off, or you can walk off the airport for about 5 min until you get to the main boulevard and then catch a small taxi or take the communal bus for less than 10 dirhams, check ALSA.ma for timetables. The inter-city buses operate frequently, check ctm.ma for timetables. The bus ride takes about three and a half hours to Agadir and costs about 120 Dirhams (~12€).
From Essaouira
A bus ride from Essaouira to Agadir costs 80 Dirham with CTM. You can also take a taxi directly from Essaouira to Taghazout for 800 dirhams (~80 Euro 1 to 5 people).
Traveling by Car
Ferry from Spain to Morocco :
If you decide to come to Morocco by car, you can take the ferry either from Tarifa to Tangier, or Algeciras to Ceuta. While it is possible to book tickets online, it is much cheaper to buy the ferry tickets directly in one of the many ferry company offices at the harbors.
Ferry from France to Morocco :
There is currently an operational route from Sete in France to Tangier Med in Morocco run by GNV ferries, it's 40h trip click here for more info
Once on dry land :
Upon arrival in Tangier, you will have to cross the border. In Tangier the border is connected to the harbor, while Ceuta is a Spanish city and you will have to drive from the ferry to the border (just follow the signs). If you have not done so yet, you will have to fill out an immigration form for yourself and the car. You will also need to provide car registration documents, and, in case the car is not registered in your name, a letter of authorization from the owner. In addition, it is necessary to have valid car insurance (carte verte). Please check beforehand, if your insurance covers Morocco, since more and more European car insurance companies tend to exclude Morocco from their coverage. If you do not have valid car insurance, it is possible to get temporary valid car insurance just behind the border. You will receive a car import document which will allow you to keep the car in Morocco for up to six months. You can not sell your car in Morocco.
If you have all the documents ready, crossing the border will be easy, although it might take a while due to long queues. Once you have crossed the border, drive carefully. Drivers in Morocco are infamous for rad overtaking maneuvers and for not using their mirrors…
If you have any  questions regarding traveling in Taghazout or Morocco in general, feel free to leave a comment below and we will answer it ASAP 🙂