In my short time in Taghazout, I have really learned to appreciate what this town has to offer. I spent the first week here sicker than I have been in years, so I really tried to rest when I wasn't surfing with the groups here at camp. My second week, feeling better, I have tried really going out and surfing on my own at my own pace. Also really taking the time to see what this small village has to offer.
Living in the hostel
Living in the hostel in the camp environment is so nice. The people who are here are from all over the world and have different reasons for being in Morocco. The reasons for being in Taghazout though for most are the same: surfing. Whether you are a beginner or more experienced there is a break for you to check out. There are even many spots that are actually quite well known in this area for you folks who like waves of the larger variety. As long as the swells are coming in any way. While I can't promise you perfect waves, (sadly, I was not blessed with the ability to control the tides), I can promise you will have a good time no matter what. It is, after all, Morocco.
So far the people I have met here have been so kind and really enjoyable to be around. Would suck if it was the other way around I suppose…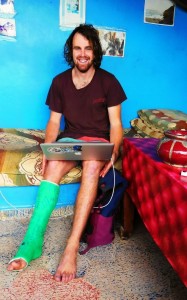 There is a nice Aussie with a broken leg named Jimbo who is currently living in the upstairs terrace because of said leg. So if you make it here to camp in the next week or so, and are keen to have some down time for a couple hours, I suggest going and talking to him for a bit as injuries are never fun in a place like this. There have been a lot of Scandinavians here, as well as Germans. All seeming to be escaping the cold raining weather of the North. All in all, a good mix have been in and out of the house, and all of the different nationalities around make dinners and card games/drinking games a lot more interesting. Also speaking of drinking, you need to know that Taghazout is a DRY town. What does that mean? No booze for sale in these parts. Agadir is your closest bet for any liquid libations, thanks to God (or whoever you prefer) that it is legal to bring it back to town. Just make sure you drink those bevys in the hostel as being drunk in public is a HUGE no no.
 Taghazout, cafés and restaurants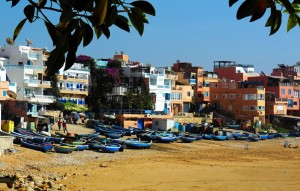 Anyways…
The town itself is actually really quite nice for how touristy it is. I definitely suggest venturing out of the hostel for some of your meals etc. as there are a couple spots that are really amazing to check out beyond the comforts of the hostel walls.
Historically this is a fishing village, which can be obvious if you walk down to the beach in the main part of the town, where you'll find a daily fish market. Most of the restaurants purchase their fish here daily, which is nice, 'cause you know the fish is fresh and good quality. I do have to say however, that the smell down there is not always that pleasant, but still worth a visit. You should definitely check out some of the cafes for a juice or coffee, and also try what the locals have to offer for food.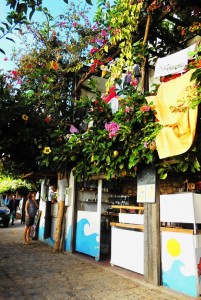 Many restaurants here have a European influence, and quite possibly a European owner. But there are a few true blue local ones as well. My new favorite thing to get in town is the fresh juice that almost all of the restaurants offer. The closest one to the hostel, a restaurant called Sunset, has some of the best and is only a 2 minute walk from the front door. It has a lot of delicious fruit options for your juice, if what's what you're in the mood for. They also offer burgers and milkshakes, if that's more your style.
My favorite place to get a coffee is a little more of a jaunt from the front door. Really close to the fish market (but far enough away that you don't always get a whiff of the smell) is a tiny place called Aftas. So far it has been the place with the most consistently good coffee. They also have fresh juices and good breakfast choices, my favorite being poached eggs with avocado on toast (YUM). You can take the girl out of California… you know the rest.
If you want a bit of a more authentic Moroccan food experience, there is one place in town that I think definitely takes the cake. It is a local Tajine restaurant. It says "Tajine" (and nothing else) on the door sign, so it's not really clear if that's the name or not… just to be clear. I can tell you though that it is located right next to the Almugar Surf Shop which is by the local pharmacy and mosque. There are usually lots of locals sitting and drinking tea in its outside seating area. Their dinners are absolutely AMAZING and inexpensive. This place is truly a gem, they even serve a traditional Moroccan breakfast for only 10 Dhm. When we went for breakfast, we were in search of Bisara, a traditional breakfast soup. This apparently only gets made when its really cold or rains. So instead we had a more common one that they serve that is a Barley Soup with Milk and seasoned with cumin and olive oil. At first I wasn't convinced of its greatness. Honestly, it reminded me of a watered down porridge. But once I got past the fact that it was not as sweet as I was expecting, I really loved it. Plus the betbout bread they serve with the sauces they had for dipping was the BEST! If you want to partake in  a breakfast steeped in tradition, with all the old men drinking their mint tea around you, I recommend being there by at least 7am (he opens at 6am) because he does sell out every morning. Apparently the latest he usually has soup to serve is 7:30am.
Taghazout  "Wildlife"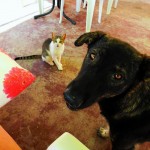 Something else to look out for while eating outside the hostel is the local "wildlife". They like to beg for your food whenever possible, and sometimes it's hard to turn such cute faces down. But beware of petting them, as most have fleas, and we know no one wants an itchy stay in their bunk bed. Plus, Morocco may be cheap, but I am sure that the medicated shampoos required to get rid of such itches for your whole dorm style room would not be — yikes!
Well that is all for now. Make sure to come back and read again for more tips with what to do in and around Taghazout!
Cheers!
Amber